At the beginning of each month, Valve releases the Steam Hardware Survey, with new numbers on hardware and software stats for Steam users. Last month provided even bigger news when AMD's latest family of graphics cards finally made it to the list, and during August, Nvidia was clawing its way forward instead.
AMD's Radeon RX 7900 XTX keeps its strength, even seeing a slight increase – from 0.17 percent to 0.23 percent. Newcomer Nvidia Geforce RTX 4060, which makes the list just two months after its launch, also has an equal share. Its sister laptop, the RTX 4060, sees the largest increase during the month, along with the RTX 3060 and RTX 4070 for laptops.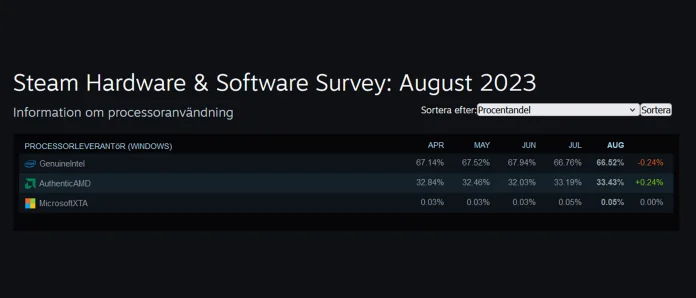 And on the processor side, AMD is closing in on Intel for the second month in a row, staying above the 33 percent mark. However, Intel at 66.5 percent still represents the majority of users. Among the other categories, some other changes stand out. Among other things, the base memory share of 16 GB increases by 1.12 percentage points, and with nearly 40 percent more users, Windows 11 continues to close the gap with its predecessor, Windows 10.
During the spring, the Steam Hardware Survey produced several strange results, with changes in the most popular languages ​​and devices meaning that the selection changed significantly from time to time. In August, there are no equally drastic changes.
Clear Steam devices from previous months:
"Entrepreneur. Freelance introvert. Creator. Passionate reader. Certified beer ninja. Food nerd."